After celebrating Tartan Day in New York, meeting a Native American tribe in Massachusetts, and exploring the haunting scenery of Ellis Island, Billy Connolly is back to delve further into the history and culture of the United States.
Billy's journey tracing the footsteps of 18th-century Scottish immigrants continues in New Jersey, a place he describes as "gritty and dirty; heavy traffic and heavy industry to a Bruce Springsteen soundtrack." His first point of call is Kearney, a destination also known as Scottishtown or Paisleytown. "The cotton thread making business moved from Paisley to here to avoid the tax of importing cotton in Scotland. They moved the whole business here and brought the people with them. 21,000 Scots lived here, and brought pipe bands, dancers, fiddlers - all sorts of Scottish culture." This Caledonian influence remains to this day, and Billy tells us that 2 much-loved Scottish specialities can still be found in the butchers here - haggis and Scotch pies.
One of the most impressive imports, however, was football. "I won't say soccer," says Billy, "that horrible wee word. Football - the game you play with your feet." Scottish workers, he says, would gather outside to play football at lunchtime, and on a weekend were joined by several different nationalities for "a little world cup". This was over 100 years ago, and Billy says the town's love of football isn't going anywhere soon. Local parks are overrun with kids playing, and, he tells us, every time the World Cup is on, school attendance plummets. Billy meets with local Andrew Pollock, the son of a Scotsman and manager of Kearny Scots American Club, a place Billy describes as a hybrid of an American dive bar and a Glasgow boozer. Andrew is credited with keeping football alive here over the years, and even though most of the Scottish community have left Kearny now, Billy says the love of football and Scottish heritage remains.
"To the north of Kearny," says Billy, "lies the America I dreamt of in my childhood in Glasgow. Before rock 'n' roll, we all thought America was like this: good neighbours and picket fences." He's in Stockbridge, Massachusetts, the home of artist Norman Rockwell. Rockwell "took the America he liked and made pictures of it, and in return, America started imitating his pictures". Even if we're not familiar with Rockwell's paintings by name, Billy says that Rockwell's world is so ingrained in popular culture that we all know of it; "American Christmas, Thanksgiving, family, suburbia, holidays and children. I can almost guarantee that if you're thinking of those things at their best, you're seeing them with Rockwell's eyes."
Though, for all his idealism, Rockwell wasn't afraid to turn his gaze to America's worst attributes. We see a painting of 6-year-old Ruby Bridges being escorted to a segregated school in 1960, a piece which received as much criticism as praise when it was first published. But, Billy thinks, "Rockwell would have been delighted that President Obama cherished the painting and had it hanging in his White House."
Rockwell gave the world the best of America, Billy says, while Scotland gave America the best of its music; "not with its pipes and drums but with its fiddles, dance music and laments. These provided the Celtic soul that was a soundtrack to an emergent nation." He's on his way to Nazareth, Pennsylvania, famous for the Martin guitar factory - the oldest of its kind in the world. "Let me be blunt -" Billy admits, "visiting factories is not how I'd usually choose to spend my time. But when you consider that at least half of the greatest songs written in rock 'n' roll, country, and pop music have been written and played on a Martin guitar, it's pretty hard not to get excited." Many of the guitars here are priceless, having belonged to Elvis, Johnny Cash, Kurt Cobain, and Willie Nelson. But there's one in particular that Billy is here to see. "I've made no secret of my love for Hank Williams. He is my north star and my hero" he says, as he is handed Hank Williams' 1947 D18. Almost in a daze, Billy plays a few chords of 'Long Gone Lonesome Blues' before returning the guitar saying, "I'm scared - I'm shaking!" In the car afterwards, he said lifting the guitar affected him deeply; "It's like he was there. It was weird. Too weird for me." It's clear that this moment meant a lot to him, and it's special to see how America's music has touched so many from across the world.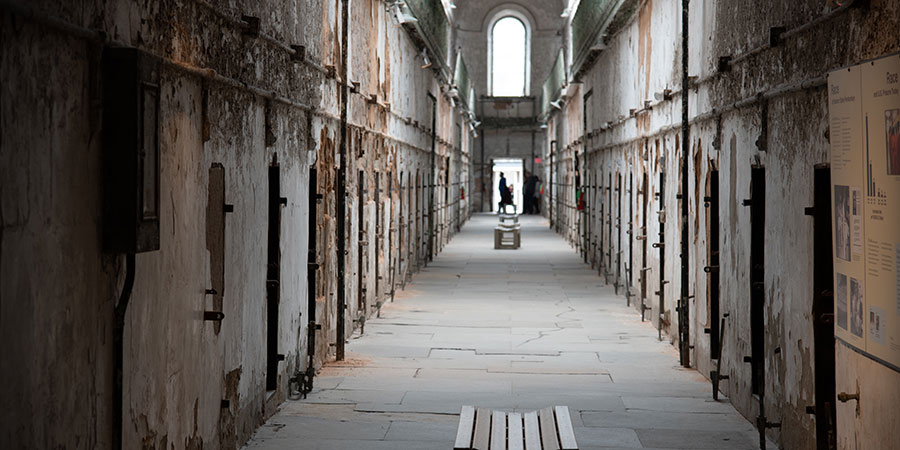 Billy isn't finished with Pennsylvania yet. He's off to jail, he says, to spend time in a very famous resident's cell. "Welcome to Al Capone's cell in the Eastern State Penitentiary. I love what he's done with the place" Billy jokes. The Eastern State Penitentiary was built in 1829 and quickly became one of the world's most famous prisons, known for inspiring terrible fear into those who served time here. After exploring the prison and having an insightful conversation with an ex-inmate, Billy concludes that the prison is cruel and heartless; "the walls, the ground beneath your feet," he says, "all function to never let you have a moment of respite."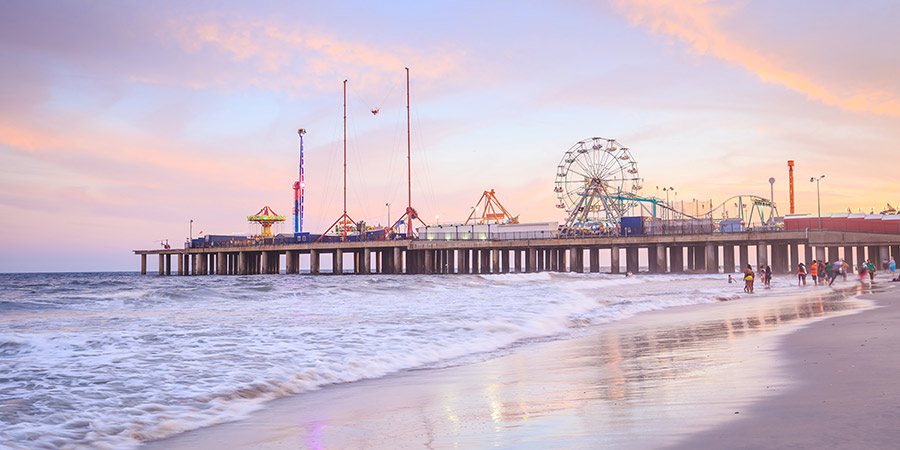 The beloved comedian's next stop is Atlantic City - known as America's playground. While it's hard to imagine today, Billy tells us that this city used to be the entertainment capital of the world. This was the kind of place where anything went, from the very first Miss America pageant to boxing marsupials and 'the diving horse', an event which very much would not happen today. "That's right," Billy says, "there was a time when a horse would climb up a 40-foot walkway to jump off a diving board, and crowds would come by the thousands to watch. You couldn't make it up."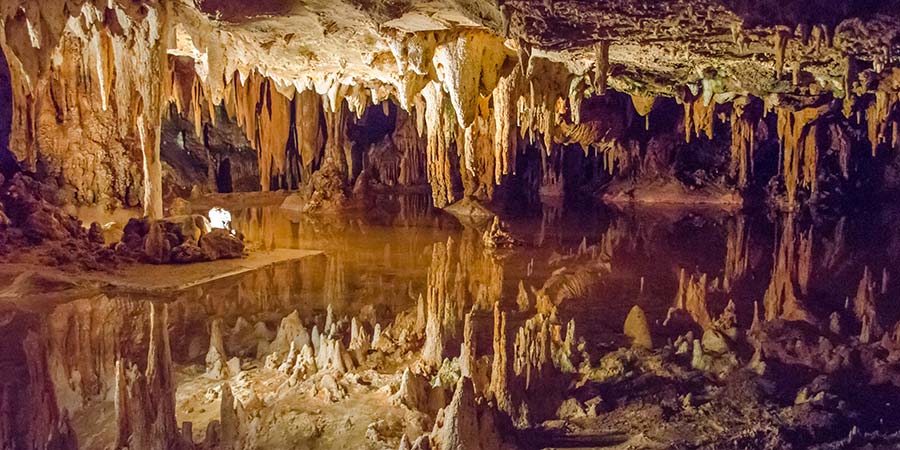 With more ground left to cover, Billy bids farewell to Atlantic City and heads to Luray Cavern, an incredible ancient cave system which sits 260-feet beneath a carpark. It's home to the 'biggest musical instrument in the world', an organ-type invention created by a man named Leyland Sprinkle in 1957, which operates by tapping various stalactites to produce musical tones. The noise it produces is almost ghostly, but Billy says, in the right hands it sounds quite special. The cave itself is eerily beautiful, and Billy is amazed by its splendour, saying "It's extraordinary, it's like a mountain range in reverse. It's not real." Upon leaving, Billy reflects on the fact that to create his instrument, Sprinkle sawed pieces off stalactites that had been forming for millions of years. Amused, he laughs "we'll get a G flat out of you if it kills me" while impersonating the sound of a saw.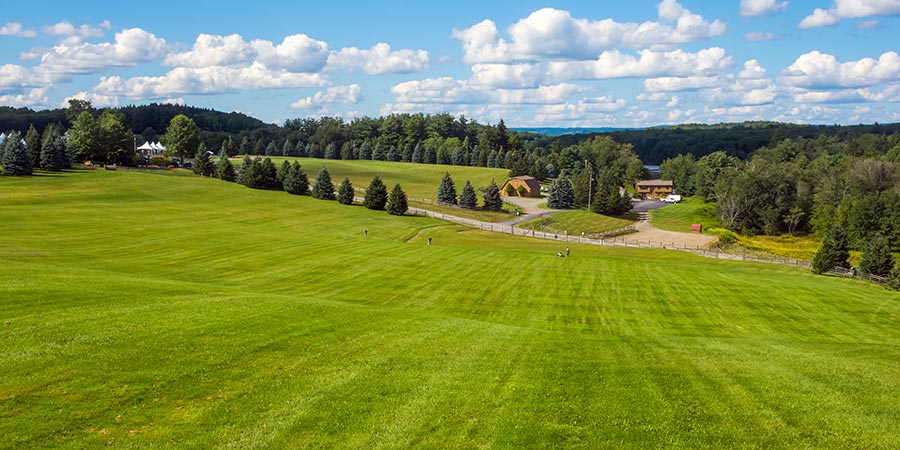 Returning to New York, Billy tells us "there is a place where the spirit of a time gone by still lingers. In Woodstock town, old hippies swirl and shake in the hope of waking ghosts of the past." But, they're in the wrong place to find the Woodstock they're dreaming of. Billy travels to Bethel, where the renowned festival took place. Woodstock "started as a concert featuring The Who, Jimi Hendrix, and Janis Joplin, and turned into an event that defined a generation. The organisers were expecting around 50,000 people from the state of New York to come for 3 days of peace, love, and understanding. Instead, they got half a million freak flag flying hippies from across America."
Billy ruminates on the world-famous event. He talks about how people were so desperate to attend the festival that cars were abandoned on nearby freeways, creating one of the longest traffic jams in the world. "But no one cared. Because Mississippi was still burning, and Martin Luther King and Robert Kennedy had been assassinated the year before. Woodstock was a gathering to keep the members of a decade of revolution alive."
With his explorations of the east coast complete, Billy journeys further through the eastern states, crossing the Mason and Dixon line - the border that divided the nation during the Civil War. His destination is Virginia, in the south, "where America's heart beats". "Everything changes in the south," Billy says, "the landscape, the food, but most of all the people." This is an area of natural wonders; of beautiful forests and dramatic mountains, and a place that the Scottish migrants knew they could call home - "primarily, because nobody else wanted it."
The episode ends with Billy visiting Virginia's Floyd Country Store, somewhere he heartily recommends for a dance and a few drinks. With less than 500 people living in the town and 1 traffic light in the whole county, Billy points out the extraordinary fact that every Friday since the 70s, musicians come here to play and dance at the Friday night jamboree. This is the perfect introduction to the south, and everything Billy hoped it would be. "I love Virginia. It reminds me of where I came from myself. It's a lovely place to visit - put it on your bucket list!"