Frequently Asked Questions
1. Booking
When do I need to book?
Each tour has a set number of departures with a limited group size. Many tours fill quickly so it is always advisable to book early to get your preferred choice of dates. We do not offer late booking discounts so there is no benefit in delaying booking your holiday. A deposit is needed to fully reserve any of our holidays.
Once you have booked and paid us the appropriate deposit for your holiday, we guarantee that you will not be surcharged. This means that even if a cost increase is imposed upon us by a supplier - for example due to an increase in fuel costs - and we need to increase the holiday price for all new bookings, we guarantee that a price rise will not affect you, if you have already booked your holiday. It really does pay to book early.
I have seen a holiday I like: How do I find out what space is available?
This website is constantly updated with booking availability and additional departure dates - click on 'Availability and Booking' on your chosen holiday for a list of departure dates and an indication as to whether there are spaces still available. Alternatively, you can contact one of our Tour Advisors on 01904 734939 to check the availability of your chosen holiday.
How do I make a booking?
There are four ways to book a holiday:
1. Directly from this website by clicking on the 'Book Now' button on your chosen holiday page.
2. By telephoning our Tour Advisors on the number shown with your chosen holiday on the website or on the relevant page in our brochure. Our Tour Advisors will be happy to complete your booking details and take a deposit by card payment over the telephone.
3. By telephoning our Tour Advisors to make a provisional booking. We will hold the place(s) on your chosen holiday for up to 48 hours.
4. We also sell our holidays through selected travel agents.
What happens next after booking?
Once you have made your booking and a deposit has been paid, we will forward a Confirmation of Booking to you. Your confirmation will show a breakdown of the accommodation and services booked on the holiday, the remaining balance and the date when it has to be paid.
Can I book with my local Travel Agent?
Rail Discoveries has a number of appointed travel agents throughout the UK who will be happy to assist you with your booking. These include AITO specialist agents and most good independent agents. We will be able to offer guidance; just ask a member of our staff.
2. Money Matters
How do I pay my deposit?
If you book online or by telephone, payment is required by debit or credit card. If booking through a Travel Agent, payment is made directly to your Agent.
How do I pay my balance?
The final payment for your holiday is due 60 days prior to departure. If you have not already made your final payment, here is how you can pay:
Call our Customer Services team on 01904 734805 to pay over the phone using a credit or debit card
Post a cheque to the address shown on the letter received with your preparations booklet, together with the payment counterfoil found at the back of your confirmation of booking
Pay by bank transfer, by visiting your branch or going online (instructions can be found on the payment counterfoil found at the back of your confirmation of booking)
How do I redeem vouchers?
If you have a holiday voucher from Rail Discoveries for money off your holiday, you will need to phone our customer services team on 01904 734805 and quote the code given on the voucher. You will need to send in the voucher by post when paying your final balance.
Which credit/debit cards do you accept?
Debit - Visa Debit, Maestro (Switch) and MasterCard Debit.
Credit - Visa and MasterCard
Is there a charge for using a credit card?
We do not charge for payment with a debit card, credit card or cheque. For more information, please read our Booking Conditions, section 3 "Payment"
May I pay by installments?
You are more than welcome to make regular payments towards your holiday cost, providing that the full balance has been received by the balance due date.
3. Your holiday documents
What information will I get before I leave?
About 10-12 weeks before your holiday you will receive an 'Update Letter', containing:
Departure and return times.
Information about your holiday including luggage advice and tips on what to pack.
Eurostar terminal guide (if applicable)
Details of the UK Rail Tickets we can offer to take you from your local station to the holiday departure point.
Details of hotels bookable through us, should you wish to stay the night before or after your holiday in Central London or at your departure location.
Details of our recommended luggage delivery scheme through 'The Baggage Man'.
A reminder about your balance due date.
About 2 weeks before departure, you will receive an itinerary and your final travel documents. Check these immediately and contact us if anything is not clear.
4. Special requirements
What do you do about special request for diets or rooms?
Any requests for special diets or room allocations must be requested at the time of booking. We pass rooming and dietary requirements on to the relevant hoteliers and suppliers, who will do their best to help. Please advise our staff as early as possible when booking.
Can we travel back later/travel out earlier and extend our holiday?
We can often arrange for you to travel out a day or so earlier or return later but are only able to add nights to the beginning or end of the holiday. In Europe, we can offer extensions in Cologne, Brussels and Paris on tours travelling through these locations. Worldwide tours often offer extensions visiting places near to the main tour location, details of these are available on the individual tour pages for worldwide tours. More details can be found in the "add-ons" page on this website, or, if you have something specific in mind, such as a tailor-made extension, give one of our Tour Advisors a call and they will be happy to discuss your ideas with you.
What about other special requests?
We do our best to provide a holiday that will suit your individual needs. Please do not hesitate to contact one of our Tour Advisors to discuss any special requirements you may have.
Can I make this a surprise holiday for someone?
We will be happy to help you arrange a surprise holiday! Please note that we are not able to send out your documents in plain envelopes, so if you live at the same address as the person you wish to surprise, please supply us with an alternative address so that the Rail Discoveries envelopes don't give the game away! Any requests of this nature should be made at the time of booking. Do make sure to give us a telephone number which it is "safe" to call, and remember to let us know when the secret is out!
5. Mobility and suitability
How do I know if this holiday is right for me?
We want to make sure you have the best experience possible on your holiday. So, we've rated each of our tours from 1 to 4 based on their level of physical activity. You'll find these ratings in our brochures and on our website. We understand that everyone has different abilities and concerns, so if you're not sure if a tour is right for you after doing your research, please don't hesitate to get in touch with us. View Mobility Rating Scale
Will I have to carry my luggage?
Luggage transfers
Complimentary luggage transfers are not included on our escorted rail holidays to Europe. However, you can upgrade to our luggage transfer service from £59. The upgrade permits one 25kg bag per person which will be collected from your home before you depart and will be waiting for you at your destination hotel. If your tour involves an overnight stay enroute, you'll need to travel with an overnight bag. If staying in multiple destinations, your suitcase will be transferred for you - so there's no need to carry your luggage while on the move. If flying to your destination, you will take your own luggage with you on the flight.
Do you accept children on your holidays?
Of course - though we feel it only fair to make it known that our clientele is generally drawn from a more mature age group and children may not necessarily enjoy the long train journeys and the types of activity that we organise. If you are unsure, please discuss your requirements with a member of our staff.
Is there an upper age limit on your holidays?
No. What is important is not your age but your ability to manage the tour. If you have read Essential Information and you think you would be able to manage the tour, we will be glad to have you on board. Can you beat our current champion of 97 years?
Does my hotel have a swimming pool/hairdryer/tea & coffee making facilities?
If you have any specific questions about facilities at your hotel, then contact us by telephone or email us. Tea & coffee making facilities are not normally found in European hotels - it seems to be a British peculiarity - although they are quite often to be found in hotels in the US and Canada. Full details about the facilities at each of your hotels will be forwarded to you with your holiday documentation.
6. Before you go
What currency will I need?
This obviously depends on where you are going. As you may already know, many European countries now use the Euro but this does not apply to all.
Please find a table below highlighting the countries that we visit and the currency they use.
| | | | |
| --- | --- | --- | --- |
| Country | Currency | Country | Currency |
| Austria | Euro | Latvia | Lat |
| Belarus | Belarusian Rouble | Luxembourg | Euro |
| Croatia | Kuna and Croatian Dinar | Monaco | Euro |
| Czech Republic | Czech Koruna | Norway | Norwegian Krone |
| Denmark | Danish Krone | Poland | Zloty |
| Estonia | Euro | Romania | Romanian Leu |
| Finland | Euro | Slovakia | Euro |
| France | Euro | Slovenia | Euro |
| Germany | Euro | Spain | Euro |
| Greece | Euro | Sweden | Swedish Krona |
| Hungary | Forint | Switzerland | Swiss Franc |
| Ireland | Euro | Thailand | Thai Baht |
| Italy | Euro | Turkey | Turkish Lira |
| India* | Indian Rupee | USA | US Dollar |
Please note that the countries with an asterisk (*) have closed currencies and local currency cannot be obtained in the UK. In these circumstances, we would recommend our customers to take sterling which can be exchanged locally.
Although some countries have their own currencies, it can sometimes be better to take a different currency. For example, US Dollars are much more widely used in Russia than the Rouble and many customers take sterling or Euros to Turkey rather than Turkish Lira. Please check with one of our Tour Advisors or a local Bureau de Change for up to date information and guidance in good time prior to your departure.
What type of suitcase should we bring?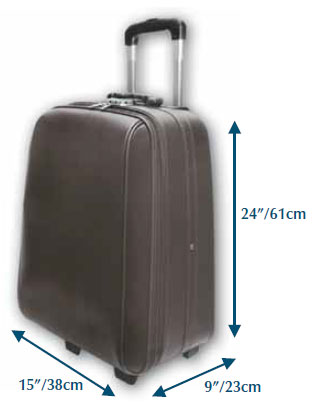 As porterage is not included on our tours, you will need to carry your own case on and off trains, and find somewhere to stow it once on board. With that in mind, we suggest the following dimensions as ideal: 61cm x 38cm x 23cm - (24" x 15" x 9"), weighing about 34lb/15kg. This may seem quite small, especially for longer holidays, so here are some packing tips:
If you are travelling with a companion, take a smaller suitcase each rather than a larger one between you. It is easier to find space on a luggage rack for two small cases than one large one.
Suitcases with wheels are very, very useful.
Remember that many of our hotels offer laundry service - perhaps you can take fewer clothes and have them cleaned.
Most hotels have irons available, so don't worry about clothes being folded a few times.
With some exceptions (e.g. river cruises where more formal attire is expected), you may wear what you are comfortable with at all times.
What about passport and visa requirements?
Most of our clients hold UK passports: any advice we give will be for UK passport holders. If you hold a passport for another country, or have special circumstances (for example, a criminal record), it is wise to contact the embassy of all countries you will be passing through. Visa requirements can change without us being notified, so we are unable to provide definitive information. Entry requirements for the United States, in particular, have recently been changing quite rapidly.

For British Citizens, a standard 10-year passport is required for all holidays and must be valid for at least six months beyond your planned return date. If your passport expires before this or if your passport is endorsed in any way, it may still be acceptable but you should contact your local passport office or the consulate/embassy of the country/countries you plan to visit or transit through for detailed advice.

Where a visa is required, we give details of how this visa may be obtained and whether the cost of the visa is included in the cost of the holiday. Please note that entry requirements can change without us being notified, so for the latest information on visa requirements for a particular tour, please call a member of our team on 01904 734939.
7. Getting to London
What time will we need to meet?
We will confirm the time you should meet your Tour Manager and group in the travel documents sent to you around 10-14 days prior to your holiday. Typically the meeting time is around 45 minutes before the departure of your Eurostar or at least 3 hours before your flight departure time.
Can you arrange rail travel from my home station?
For a hassle-free start to your journey, we can arrange tickets to the start of your tour from your closest available train station. Prices for this service start at as little as £15 one-way, with reserved seats and flexible timings. This service is available for all tours, whether starting at St Pancras, somewhere else in the UK or an airport. Upgrades to First Class are available from as little as £30. For more information see UK rail connections on our Add-ons page.
What do we do if we are delayed getting to St Pancras?
If you are delayed on your way to meet your group, please call our office as soon as you are able to on 01904 521900 to advise us of your situation. If you are calling this number out of office hours, our recorded message will give you an alternative 'emergency on-call' number to call. We are available 24 hours a day, 7 days a week, 365 days a year for our customers.
What if we need to stay in London the night before?
We can book a wide range of hotels in central London for the night before you depart on your tour from St Pancras International, and also for your return to the UK. Details of the hotels available and how to book will be sent 10 weeks before your departure. Alternatively, if you click on the 'add ons' tab in the Essential Information section of the website, you will find more information on the hotels available. You can contact us on 01904 734939 for more details.
What if my tour starts elsewhere in the UK?
We can arrange rail travel to the beginning point of your UK tour on request. Alternatively, you may wish to drive, in which case it is important you contact us for information on parking. Many of our UK hotels offer parking, however we cannot always guarantee this, and it may be the case that we direct you to alternative parking instead, which will likely be payable locally.
8. What is a Rail Discoveries holiday like?
What is included?
Our holidays include return rail travel with appropriate transfers, hotel accommodation, a number of meals and the services of your Tour Manager as well as a selection of excursions. Optional excursions are often offered on a tour at an additional cost, giving you the opportunity to explore with the group or head out on your own. Itineraries and details of what's included are listed in full in the brochure which means there are no hidden costs lurking to take the shine off your holiday.
What are the excursions like?
Some excursions are included in the price of your holiday, others are optional at an additional cost. They are designed to give a balance of cultural, historical and social interest and to give you insight into the areas we visit. We try to use trains for excursions, however we sometimes utilise coaches or boats to get to places of interest. Where coaches are used, these are of high quality and aim to keep coach journeys to a maximum of 2 hours between stops. On most excursions, in addition to your Tour Manager, we are accompanied by a local guide to impact specialist knowledge of the sights being visited. Some excursions are to off-the-beaten-track destinations that simply would not be stumbled upon without this local knowledge.
Do we have to join in?
Travelling on a Rail Discoveries holiday, you will never feel "herded", and customers sometimes break away from the group to explore independently. There is plenty of flexibility within the itineraries and options to dine and explore independently. There are also those who prefer to forego a particular excursion to relax at the hotel - it is your holiday after all.
Your Tour Manager is there to provide help when you need it or to discreetly 'disappear' when you don't. The programme of activity is comprehensive, but not compulsory - it is very easy to opt in or out as one pleases. There is time to yourself and freedom to indulge your own interests.
What facilities will my hotel have?
Our hotels are carefully selected to provide keen value for money, a warm welcome with high quality service and comfortable rooms, all in convenient locations with amenities close at hand.
We indicate the official star rating and provide a short description of each hotel on the 'Hotels' tab found on our tour pages. The hotel description details its location and facilities to help you decide if the hotel is suitable for your needs. All hotel bedrooms on Rail Discoveries holidays are equipped with a private bathroom, telephone and colour television. Many hotels also offer hairdryers, minibars, safes, tea and coffee making facilities and so on and where these are available, they will be detailed in the 'Hotels' section. If you have any further questions about the hotel included on your tour, please do not hesitate to telephone us on 01904 734939.
Full details about the facilities available at all of our hotels will be forwarded to you with your holiday documentation.
What do the Tour Managers do?
Your Tour Manager meets you at St Pancras International, or your airport or UK hotel location, and remains with you throughout your holiday. Our Tour Managers have been chosen specifically for their friendliness, organisational skills and willingness to help, which means you can take the time to truly relax, safe in the knowledge that someone else has organised everything from train reservations to hotels and transfers. They are never far away if you need assistance and will provide suggestions for places to go and things to do when there's a free day. Should you wish to explore independently they will fade into the background.
What about solo travellers?
Rail Discoveries holidays are very suitable for people who are travelling on their own. The convivial nature of a group environment means there is always someone to share experiences with, should you choose to.
Typically up to 15% of the travellers on a group can be solo travellers, with the remainder being made up of couples, or two (or more) friends travelling together.
9. General information
Why travel by train?
Travelling by rail is a great way to experience the UK and the Continent. On a train you can get up and stretch your legs, visit the buffet car for refreshments, or simply sit back in your comfortable, reserved seat and enjoy the spectacular, ever-changing scenery as you speed to your destination. By rail you can experience sights that cannot be seen any other way: from panoramic coastal routes to a journey through majestic Alpine scenery or along spectacular gorges, the train provides the ideal viewpoint.
If you haven't ventured into Europe by rail before, you will be pleasantly surprised by how little time it takes to reach your destination. Travellers arriving at St Pancras International are whisked through check-in and can be relaxing in their seats on board Eurostar within half an hour. The journey to Paris now takes just over two hours and the journey to Brussels just under two hours.
When is the best time to go?
It depends entirely on your destination, and what sort of weather you like. If you prefer to avoid the hottest part of the year, then try not to travel in July and August - though northern Europe is generally cooler than southern Europe. The Alps also tend to stay a little cooler over the summer, thanks to their altitude. On the other hand, the closer to the main summer season you go, the better the chances of getting some sun! If you are travelling to countries in the Southern Hemisphere, don't forget that the period from February to April is their autumn, and September to November is spring.
Many of our winter tours are to countries with colder climates. Naturally we can't guarantee snow, but our Tour Advisors will help you choose a departure date to suit you - whether you want to see beautiful winter scenery under a blanket of snow, or meadows full of colourful springtime flowers.
How many people go on one of your holidays?
The maximum number varies from tour to tour, but it is usually between 35 to 45 people, except for our Short Breaks where we have around 25 people. The majority of our tours travel with a full complement and it is very rare that we have to cancel due to lack of numbers. However, on occasions it is necessary for us to cancel tours due to low numbers. As a general rule, the minimum number of passengers required to operate a tour is 15 and we will always contact our customers in good time should it be necessary to cancel or make an amendment to the scheduled programme.
Are they holidays for rail enthusiasts?
Our customers book with us because they appreciate the comfort and relaxation of travelling by train and look upon the journey as part of their holiday, rather than because they are rail enthusiasts. Our holidays attract customers with a wide range of interests and they are not designed specifically for enthusiasts, however as many of the destinations included in our tours are selected for their excellent railway connections and excursions, rail enthusiasts will find much to interest them.
What's the difference between a First Class and a Standard Class tour?
First Class is always more spacious and includes meals and drinks on certain journeys - as noted in the tour itinerary. Whilst slightly less spacious, Standard Class accommodation in Europe is generally still more comfortable than you may be used to in the UK.
"First Class" and "Standard Class" refers to the class of rail travel which you will primarily use. In all other senses, we treat our groups equally. So your standard of hotel, your excursion programme and the quality of service you receive from our staff remains the same.
On occasions travel is on Sundays or public holidays - can I expect extended journey times and disruption as in the UK?
No. Other than in the UK, principal trains throughout the world run to the same schedules every day of the week. The infrastructure in place ensures that engineering works, including major renewals and upgrading, generally have little impact on train running.
What is the dress code?
Wear what you are comfortable in and what is appropriate for the tour, remembering that the more outfits you bring the heavier your cases will be! Customers generally find a sturdy pair of shoes they are able to walk in is useful - particularly for tours including sightseeing and guided walking tours. Other suggestions include a waterproof jacket and 'layers' so you are able to dress for the weather, whether that be sun, snow or both! Where more formal wear is required (e.g. gala dinners on the river cruises), we will inform you of this in your holiday documentation.
Can you book me rail tickets so I can travel independently?
We only deal with our pre-booked group itineraries however our partner company, GRJ Independent, arranges independent, tailor-made holidays by rail around Europe and beyond. Visit their website www.greatrail.com or call 01904 521921 for more information.
Do you organise rail holidays in the UK?
Yes! We offer a great selection of tours within the UK to destinations such as tours to Yorkshire, Norwich, Wales and various destinations throughout Scotland.
Flights & flying
What upgrades are available on flights, and what do you get for your money?
This depends on the holiday, and on the airline used. Here is a brief summary of what is available with each airline featured throughout our programme and what the upgrade entails. Prices for upgrading vary massively depending upon the availability. If you are interested in upgrading from economy class, please contact a member of staff for an up to date quotation.
Airline
Upgrade
British Airways

World Traveller Plus

Online check-in
Separate cabin
Wider seat with 38" seat pitch (Economy 32")
Additional recline and extra leg room
Three-course menu offering two Club World meal options served on china crockery with metal cutlery and linen napkins

Club Europe

Priority check in and dedicated baggage drop-off
Lounge access with complimentary food
A separate, more spacious cabin
Guaranteed aisle or window seat
Enhanced menu with a large selection of wines
34" seat pitch with a wider seat
More leg room

Delta

Economy Comfort
(can only be requested approx 30 days prior to departure)


Extra 4" leg room
Additional 50% recline than Economy
Early boarding

Business Elite

Additional recline (but not yet 180 degrees)
Fully flat bed with aisle access - coming soon!
World-class dining - 5-course menu with wine pairing
Club Lounge access

Virgin

Premium Economy

Dedicated check-in desk and priority boarding
21" wide soft leather seat with 38" seat pitch (Economy 31")
Pre-flight and complementary drinks served throughout
A separate cabin
Enhanced menu, food served on china plates and steel cutlery
After-dinner liqueur
Complimentary newspaper
Personal seatback TVs with power on demand
In-seat laptop power

Upper Class

Chauffer-driven car ride
Virgin Clubhouse access (free spa/hair treatments, library, cocktail bar and brasserie)
An ottoman which doubles as a seat
A choice of meals and fine wine
A separate bar
A soft leather seat which turns into one of the longest (6ft 6 inches) fully flat beds in business class at the touch of a button
Direct aisle-access and forward facing seats
10.4" personal touch screen monitor showing award-winning entertainment
Approximately how long are the flights on my holiday?
The table below highlights the duration of each flight applicable to our tour examples. Please note that these details are approximate and final confirmed flight timings will be enclosed with your final holiday documentation.
Can I fly on a flight other than that included in the price of the holiday?
Prices quoted in this brochure are based on special fares offered to us by the airlines for group travel. These represent a reduction on the normal IATA fares which generally include greater flexibility. Should you wish to book our holiday using a flight other than that shown in the brochure, a flight variation charge from £40 per person will apply in addition to the difference in cost between our special fare and the normal IATA fare for the flight(s) required. Tickets at our special fare are valid only on the airline and dates shown and do not automatically entitle passengers to switch to another carrier in the case of a flight cancellation, delay or technical problem with the aircraft or the reservation.
Can we fly from our local airport to join the group in London?
We can usually organise add-on flights from your local airport. Prices are from £180 per person return and are subject to availability, and will be quoted on request. Please contact us if you would like a quote from your local airport.
Can we extend our holiday and fly back later/fly out earlier?
Extensions are available on many of our worldwide tours, and we can also offer a tailor-made service. Let us know in good time and we should be able to book your flights as requested but you would normally have to fly one way with the group. We can also book extra nights in the hotels we use at the start or end of a holiday. Please note, though, that you will need to arrange your own transfer to the airport if you are not taking the transport we arrange for the group. Also, make sure you have insurance to cover the extended length of your stay.
If you have a question that is not in this frequently asked questions page, please contact us on the number at the top of the page.