"To many of us, this is a mysterious and somewhat alien country. Travelling north to south, I'm going to discover a Japan that's as surprising as it is magical. A land of great natural wonder, a rich culture formed over thousands of years, with a troubled past and a strong belief in the future. Believe me, this is going to be a fantastic adventure."
This week on ITV, Joanna Lumley is in the land of the rising sun, Japan, for part 1 of a 3-part adventure through a destination renowned for being as diverse as it is compelling.
The episode opens with the actress on a ship, powering through frosty waters. Behind her is Russia and the Okhotsk Sea, and ahead, a journey of 2,000 miles which will take her from this icy ocean to the beaches of one of Japan's thousands of islands.
It's the end of winter and Joanna is as far north as you can get in Japan. "Everyone on this ice-breaking ship", she says, "has come to see the same thing - drift ice." This spectacular natural occurrence is the result of freshwater from Russia's rivers freezing, before drifting to Japan's most northerly island - Hokkaido. It's a cause of celebration for locals, and no wonder; the sheets of floating ice on the vast ocean are a marvellous sight.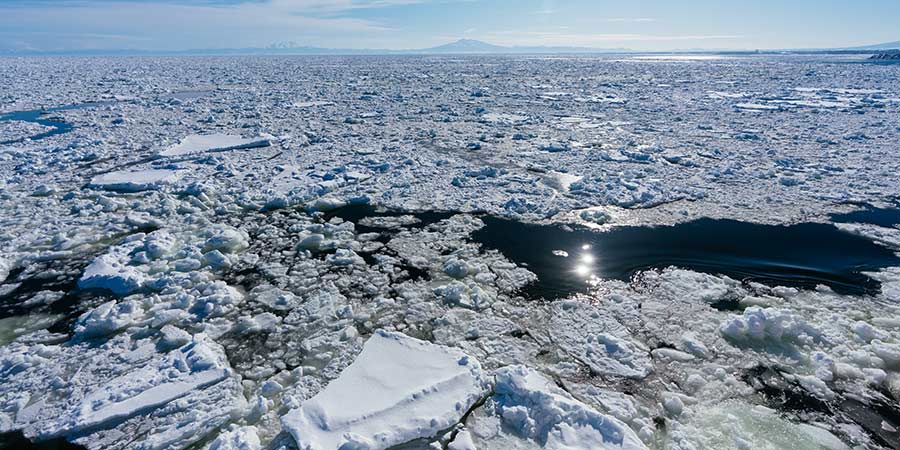 Joanna arrives in the fishing town of Monbetsu, where a welcome party awaits. "It's a huge seal" exclaims Joanna upon sight of the costumed character. There are thousands of mascots here, representing everything from tourist attractions to electricity companies, and Joanna notes that "being cute is big business here."
Continuing, Joanna discovers a delightful Japanese tradition. "They have a lovely custom. When you go anywhere of interest, they have stamps so that you can remember where you've been." She stamps her notepad with an intricate stamp depicting a ship on the ocean, saying "how beautiful! I was on that!"
Joanna heads south through Hokkaido - an island that makes up a fifth of Japan's landmass but is home to less than 5% of its population - and is amazed by the scenery. "I don't know what I thought Japan would be like in the winter, but somehow, not this. It's a fairyland, like driving through Narnia!" She's on her way to meet Makoto Ando, a local guide and wildlife expert who introduces her to creatures which have held mythical status is Japan for thousands of years - red-crowned cranes. The north of Hokkaido is the last remaining habitat of these birds, and a 4am wakeup call grants Joanna the opportunity to witness them in all their glory.
Each night, the cranes gather in the local river and wake as the sun rises. The breaking day reveals a magnificent scene of hundreds of cranes lit by a soft light. Joanna is touched; seeing the birds in the wild has been a dream of hers.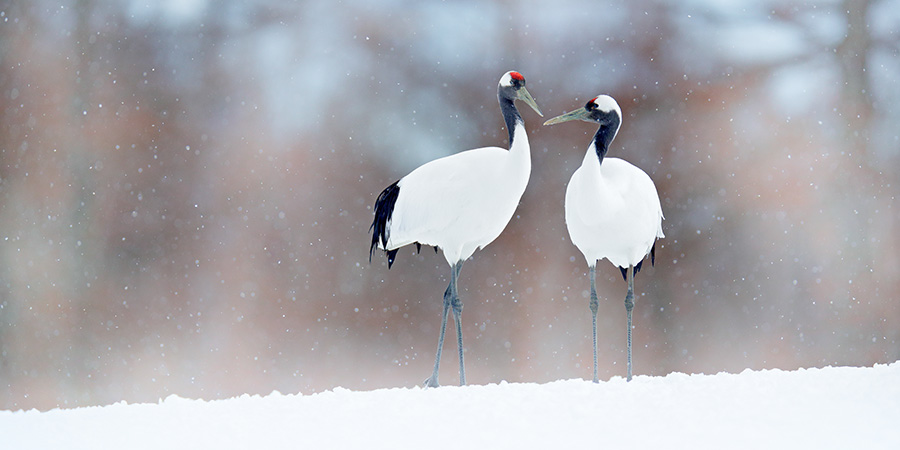 Joanna continues to the capital of Hokkaido, Sapporo. As the countryside transitions into urban scenery, Joanna gets a glimpse at the bright lights of her first Japanese city. Sapporo is one of Japan's smaller cities with a population of 2 million people, but for one week a year, that figure doubles as visitors from around the world arrive for the annual snow festival.
Sapporo Snow Festival began almost 70 years ago when local students began making sculptures out of snow cleared from blocked roads. Now, it is one of the biggest events in Japan. Joanna is treated to an all-access tour of the festival's centrepiece, a 25-metre-tall replica of Macau's Church of Saint Paul, created by the Japanese Self Defence Force. The structure took a month and around 3,600 people to create, and the detail is astounding. Joanna notes that it's lovely to see members of the army coming together to create something so peaceful, saying "it's rather wonderful to think of soldiers building snow castles. It's an old hippie dream!".
While the sculptures are undoubtedly impressive, Joanna is looking for something a little smaller. A gasp, followed by an exclamation of "the best yet!" - of course, it's a souvenir stamp in her stamp book, or 'goshuincho'. "You know," laughs Joanna, "all I care about now is getting stamps in my book!"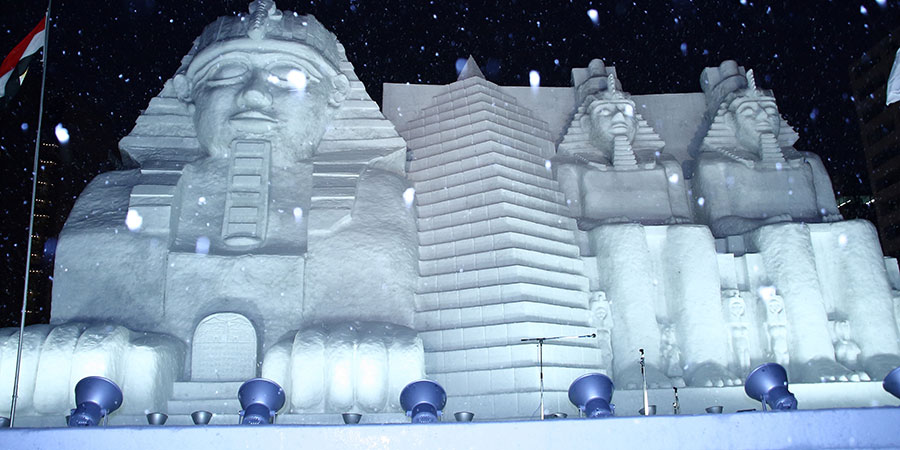 While the festival is a time for celebration, Hokkaido has a troubled past. The name 'Sapporo' comes from the language of the Ainu, the indigenous people of Hokkaido. 150 years ago, the Japanese feared that Russians would invade the island, so decided to colonise it, banning the language and culture of the Ainu people. Joanna meets with descendants of the Ainu, who tell her of the struggles their grandparents faced when learning the Japanese language became compulsory. "I am called Yupo", says the grandson of one of the last Ainu women, "but my Japanese name is Kazushi" - a name his grandmother found impossible to pronounce. It's a heart-breaking story, but the future is looking a little brighter. Yupo and his family are now working to raise awareness for the Ainu culture after the Japanese government finally recognised them as Hokkaido's indigenous people in 2008.
Leaving Sapporo and Hokkaido behind, Joanna continues to Honshu, Japan's main island, where a fascinating culture has been flourishing for thousands of years. Unsurprising, given that until the mid-19th century it was forbidden to leave or enter Japan, giving its people plenty of time to develop a uniquely Japanese culture - a culture that is still very much alive today.
Driving through Honshu, Joanna passes paddy fields blanketed in snow. Come spring, she says, they will be green with rice plants - plants needed to produce Japan's national drink, sake. Joanna visits a brewery which has been producing sake for over 300 years. Learning about the methods of production, Joanna helps with 'massaging' the rice - tiring work, says the actress, who is "rather regretting wearing 2 layers of cashmere."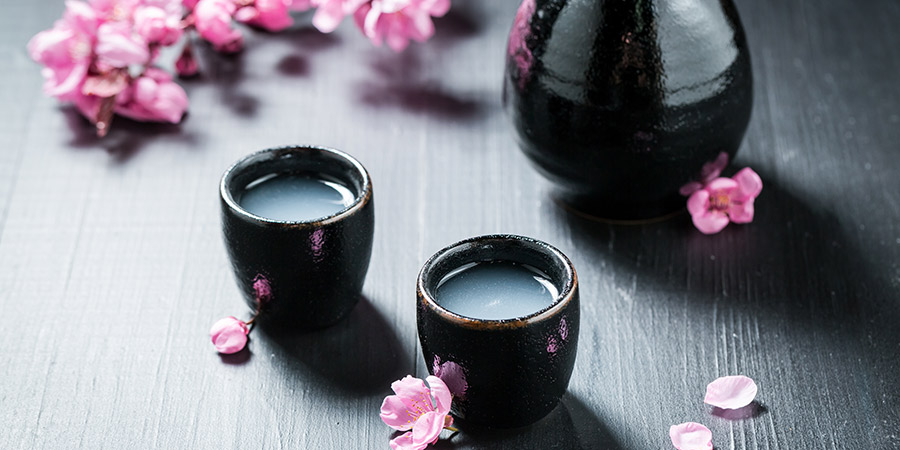 After pausing to experience a Shinto fire festival in Kakunodate, Joanna continues to Mount Haguro, where she visits an incredible 700-year-old pagoda nestled in an ancient forest. Built in 1372, this 5-story pagoda is made entirely of wood yet has survived in one of the most earthquake-prone areas of the world. "I could happily stay in this magical part of Japan forever," says Joanna, "but it's time to move on to the realities of living in such a geographically unstable country."
Driving east across Honshu, the landscapes become increasingly mountainous. 100 of the mountains in Japan are active volcanoes, and there are 1,000 earthquakes each year. The earthquakes are a huge part of Japanese history; in most recent memory, the earthquake of March 2011 which resulted in a devastating tsunami striking Japan's east coast, killing 20,000 people. Another result of the disaster was the Fukushima power plant in Ōkuma going into meltdown, causing thousands of locals to abandon their homes. 5 years later, there's still a 12-mile exclusion zone around the plant.
Arriving in nearby Tomioka, Joanna and her crew receive strict instructions to stay in the zone for only 5 hours. Tomioka is a ghost town. Peering through the windows of a long-abandoned restaurant and dry cleaners, Joanna calls the town 'haunted'. It's difficult to believe this was once a thriving community which was home to 16,000 people.
But, says Joanna, from this devastation has emerged a story of selfless heroism. She meets Naoto Matsumura, a resident who risked his life to save hundreds of the town's animals. He's been here for 5 years, exposing himself to high levels of nuclear radiation in order to safeguard Fukushima's creatures. And, it's not just cats and dogs - Naoto shows Joanna the cows that he cares for, despite the government trying to put them down. "Men from the public health department came with injections and started chasing the cows. Every day I'd chase them away." He chuckles, "they used to run away the minute they saw me!".
Next, Joanna discovers a positive side to the earthquakes and volcanos - hot springs. She's in Nagano and the snow has returned. The perfect weather, Joanna says, for a hot spa. But it isn't just humans who relish a pamper, and Joanna is delighted to see charming Japanese macaque monkeys enjoying the waters. The monkeys are native to Japan and live further north than any other monkey in the world, which perhaps explains their penchant for a hot bath.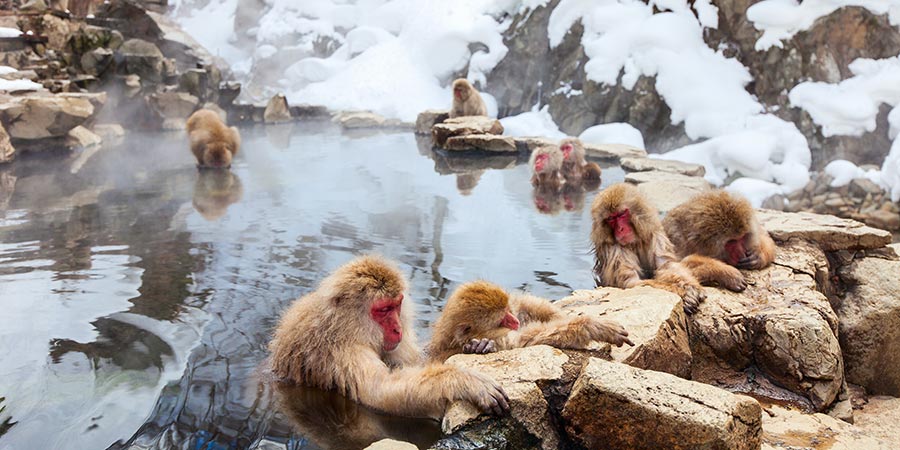 Joanna tells us that for over 1,000 years people have been coming to this area to bathe. She's in the town of Shibu Onsen, where, after an obligatory keepsake stamp in her book, she takes an hour or 3 to relax in the steaming waters.
With episode 1 drawing to a close, Joanna rides the bullet train to the frenetic city of Tokyo. "I've loved the traditions of rural Japan; its steaming onsen, fire festivals, lovely sake. But now it's time to experience modern, urban Japan. Hello Tokyo!"
Joanna's near-constant joy and appreciation for the culture of Japan is infectious, and it's heart-warming to see somebody fall in love with a destination the way she does. We can't wait for her explorations of Tokyo in episode 2 next week - we'll see you then!