San Francisco's iconic cable cars offer a convenient and novel way to navigate the city's hilly landscape. If you're stopping in San Francisco during your train holidays in America, hop on one of the city's three cable car lines. This will allow you to get to some of San Francisco's most renowned attractions and to enjoy the best views of the city whilst doing so!
Francisco Fisherman's Wharf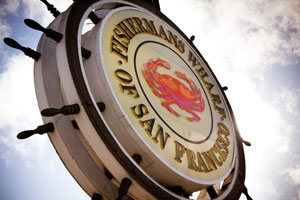 Before its redevelopment, the industrial Francisco Fisherman's Wharf was ships' main point of entry to San Francisco; wood, food and people all arrived in the city via this port. Nowadays, the port serves as a bustling leisure destination where tourists and locals alike can go to take in the wonderful ocean views and to inhale the salty air. Head to the wharf to take an unhurried stroll along the pier and to learn about the history of the fishing community that first established this port. If you're eager to get onto the water, you can take a boat tour along the waterfront. There's also a range of attractions to visit on land, such as the Aquarium, the Sea Lion Centre and the Madame Tussauds wax museum. If you're feeling peckish while at the pier, don't hesitate to try some Dungeness crab. The staple food of the immigrants who used to fish on the pier, this delectable crab is cooked in large cauldrons of boiling water and served in paper cups.
Lombard Street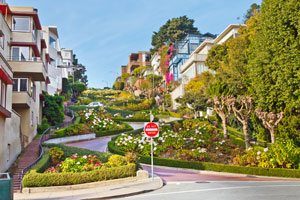 Hop on the Powell-Hyde cable car line to visit San Francisco's "crookedest" street. Lombard Street is famous for its steep one-block section that challenges drivers with eight consecutive hair-pin turns. Originally proposed to stop cars rolling down the steep hill, the road's curves have now turned the street into a popular site for tourists. Lombard Street is also home to some of San Francisco's most expensive real estate, and there are a few landmark homes worth looking out for. For example, try to spot the home used as Scottie's apartment in the Alfred Hitchcock film Vertigo or the house from The Real World series. Don't forget to take your camera, you mustn't leave the city without the obligatory snapshot of this street.
Ghirardelli Square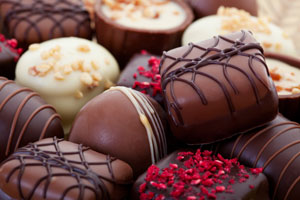 If you're feeling hungry, make your way to the famous Ghiradelli Square. Named after Domenico Ghirardelli, this square is where Ghirardelli Chocolate was founded in 1892. Pay a visit to the chocolate shop to indulge in a hot fudge sundae and all types of premium chocolate. If you fancy something savoury instead, head to Lori's Diner for all day breakfasts and juicy burgers. The square is also the perfect place to be if you're in need of some retail therapy. Visit ElizabethW's flagship store and discover San Francisco's most iconic beauty brand. You can also have a look through the unique costume jewellery at the charity boutique, Helpers Bazaar. The square hosts a variety of entertainment that ranges from night-time yoga to wine tasting festivals. What more could you ask for while on your train holidays in the USA?
City Lights Bookstore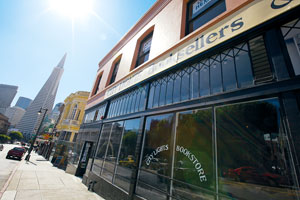 All bookworms out there will fall in love with the cosy, intellectual ambience at the City Lights Bookstore. This iconic independent bookshop was first established in 1953 by poet Lawrence Ferlinghetti and Professor Peter D. Martin. Arrive via the Powell-Mason line and spend a relaxing couple of hours browsing through books that focus on world literature, the arts and politics. The store is also home to City Lights Publishers, established in 1955. Controversial from the start, this publishers came to fame for the legal trial that was held against them for releasing Howl by Allen Ginsberg. City Lights won the trial, which consequently opened the doors to the release of other books, such as D.H. Lawrence's Lady Chatterley's Lover, that had previously been banned for obscenity.
San Francisco Maritime National Historic Park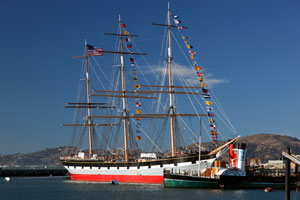 Venture to the north end of the Powell-Hyde line and you will find yourself at San Francisco's Maritime National Historic Park. At the end of Hyde Street Pier you can find an impressive fleet of historic ships from the 19th and 20th centuries. There are six major vessels accompanied by over a hundred smaller boats, many of which you can board and explore yourself. If that doesn't satisfy your appetite for nautical history, visit the Maritime Museum. Not only can you learn about the role the port played in San Francisco's history, but you can also see items from the daily lives of people living on the ships. After visiting so many different boats, get rid of your sea legs with a ten minute walk to the Aquatic Park. Here you can relax with views of the Bay and even go for a dip, albeit a chilly one, in the swimming area.
While on your American train holidays, why not stop off in San Francisco and sample all it has to offer. The city has a variety of cultural, historical and culinary delights to offer, many of which can be travelled to via the city's charming and convenient cable cars.