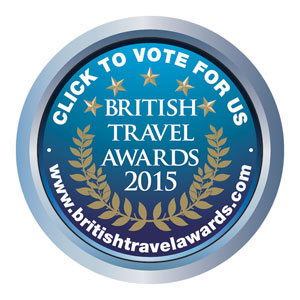 Even though Rail Discoveries have only been operating for just under a year as a sister company to Great Rail Journeys, (we previously worked under the name of Treyn) we are extremely excited to be nominated for the first time ever in not just one, but two categories in the 2015 British Travel Awards: Best Escorted Tours Holiday Company and Best Rail Holidays Company!
What makes this news even more thrilling for us is the fact that these awards are solely voted for by you, our customers. This prestigious accolade is something that every travel company hopes to be in with a chance of winning as they are based on what people who travel with us actually experience. And you've been kind enough to send us your feedback over the last year, much of which reinforces that we are achieving our aim of creating interesting and exciting rail tours that combine the most scenic train journeys with conveniently located hotels, inclusive excursions and free time to explore, giving you the best of both worlds.
If you would like to vote for us in either category, you'll be in with the chance of winning one of the amazing prizes from the 'Voters Prize Chest', all donated by nominees. You could be jetting off for a 7-night holiday in Kefalonia, taking a city break to Barcelona or relaxing on a mini-cruise to Amsterdam. Just click on the link before September 30th.