Italy's landscapes are truly spectacular; endless glittering coastline, ancient cities, rural regions filled with vineyards and olive groves, and of course, the lakes. The Italian lakes are amongst the most beautiful in the world, with stunningly blue waters and shores that play host to idyllic villages, grand villas, and chic towns. It's easy to see why these bodies of water attract visitors the world over, but which one should you visit? No matter which lake you choose, each has its own unique charm, and you're almost guaranteed to fall in love. To get you started, though, here's our rundown of the three most famous, and what makes them quite so special.
Lake Garda
Lake Garda, Italy's largest lake, is also, undoubtedly, its the best-loved, but is its popularity justified? The short answer is, yes; its crystal clear, mirror-like waters are just the beginning of the lake's allure, look closer, and you'll find a whole host of enticing culture on its shores.
First, there's the scenery. Head to the northern end of the lake, and you'll find wild and rugged landscapes that wouldn't feel out of place in Norway, with fjord-like waters and towering cliffs creating a sense of drama that's a welcome change amidst Italy's usually serene surroundings. Further south, the scenery becomes quintessentially Mediterranean and almost ocean-like; with waves gently lapping the shores, and lush, rolling hills extending into the distance, dotted with leafy olive groves and vineyards where you could happily spend an afternoon sampling the local wines.
Then, there are the towns. At the north lies Malcesine, a town with a medieval centre clustered around an attractive harbour, an impressive 14th-century castle serving as the jewel in its picturesque crown. To the south, there's Sirmione, a charming town bursting with history that sits on a peninsula that juts dramatically into the lake. Here you'll find a picture-book medieval castle surrounded by an azure moat, where you can soak up incredible views across the lake from the ramparts.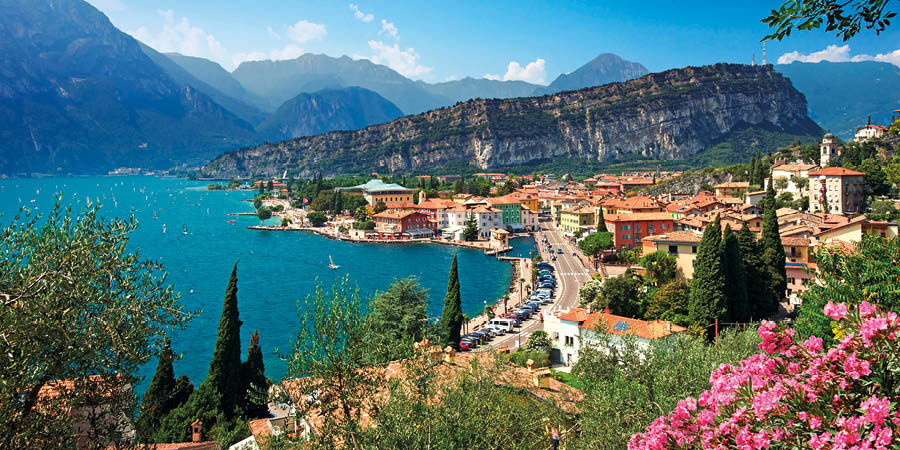 Lake Como
Known for its unique, upside-down 'Y' shape, Lake Como is perhaps the most glamorous of the Italian lakes; surrounded by splendid scenery of towering mountains and deep valleys, with waters that change beautifully from light green to dark blue.
Como is somewhat of a star-studded destination and has long enticed celebrities and aristocrats to its shores. John F. Kennedy once called it "the most beautiful lake of the world", and George Clooney has a stunning summer home, Villa Oleandra, here. Como is also famous for its Bond connections. Parts of the 2006 movie 'Casino Royale' were shot here, with the late 18th-century Villa del Balbianello in Lenno boasting a starring role.
Indeed, the villas are one of the biggest draws of Lake Como; grand mansions that sit perched on the shores, shrouded by lush trees and surrounded with elegantly manicured gardens. Villa Carlotta, a magnificent neo-classical palace, is the most famous. Built towards the end of the 17th century, by the start of the 1800s it had become one of the region's main attractions, with a museum inside showcasing the owner's extensive art collection. Visitors to the villa today can still admire marble statues by the celebrated Venetian sculptor Antonio Canova and paintings by Italy's foremost artist of Romanticism, Francesco Hayez.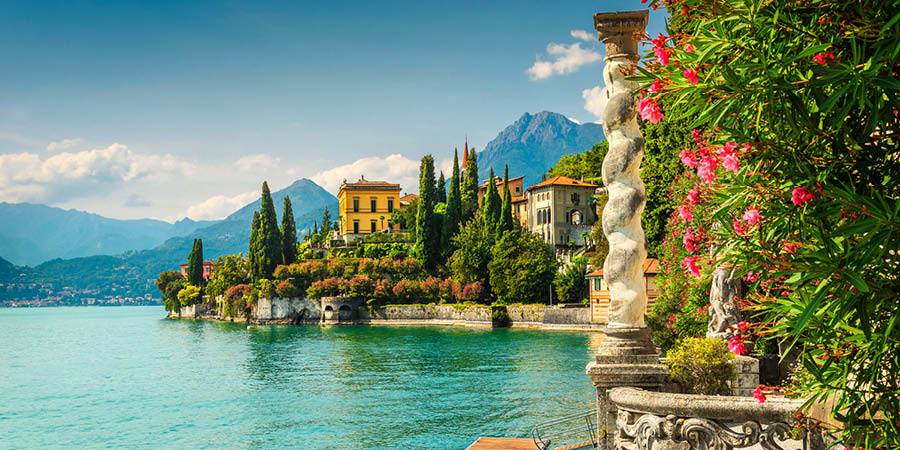 Lake Maggiore
With its northerly position, sprawled across the border between Italy and Switzerland, Lake Maggiore is known as Italy's international lake. Often overlooked in favour of Lake Como or Lake Garda, Lake Maggiore has an almost undiscovered charm and is the ideal spot if you want to enjoy a slightly more tranquil lakeside break.
The lake's Borromean Islands, Madre, Bella, and Pescatori each offer up a slice of unique Italian culture. Isola Bella is dominated by the sumptuous Borromean Palace, an elegant villa where you'll find lavish interiors, impressive artworks, and immaculate Italian-style gardens. Isola Pescatori, on the other hand, translates to 'Fisherman's Island', and is home to a quaint fishing village that only has around 50 permanent, year-round residents.
One of the most popular spots on the lake is Stresa. Originally a tiny fishing hamlet, by the 14th century it had grown in popularity enough to be recognised as a village, and gained the right to hold a weekly market; a tradition still upheld each Friday morning. Should you be lucky enough to find yourself in Stresa on market day, in Piazza Capucci you'll find a host of colourful stalls selling delicious produce including smoked meats, local cheese, honey, and fresh fruit.