Add-ons
Joining your holiday
London has so many attractions, activities and entertainment options... the theatres, the museums, the parks and the shops are all waiting to be explored! So if your tour starts at St Pancras International or Heathrow, why not begin your holiday by arriving in the capital a day or more prior to the start of your tour? We can arrange so much - including travel to and from London and overnight hotels - to help you get the most out of your time and begin your tour in real style. If you are travelling on one of our UK tours then we will be happy to assist with train tickets from your local station to the starting point of your tour.
Travelling to the starting point of your tour
Whichever tour you choose, we can organise rail travel from any UK railway station to the tour's starting point, whether this be a European holiday from St Pancras International, a Worldwide holiday from a London airport or a UK holiday.
Our Standard Class rail tickets are very competitively priced and are fully-flexible - in other words, they are valid on every service on the day of travel, even the peak times.
The tickets also include seat reservations (where available), ensuring the journey stays hassle-free and that you arrive at the start of the tour ready to enjoy your holiday.
The map below gives you an indication of the fares from your local area to London but for an up to date quote from your local station to London - or from your local station to another destination - please contact one of our Tour Advisors.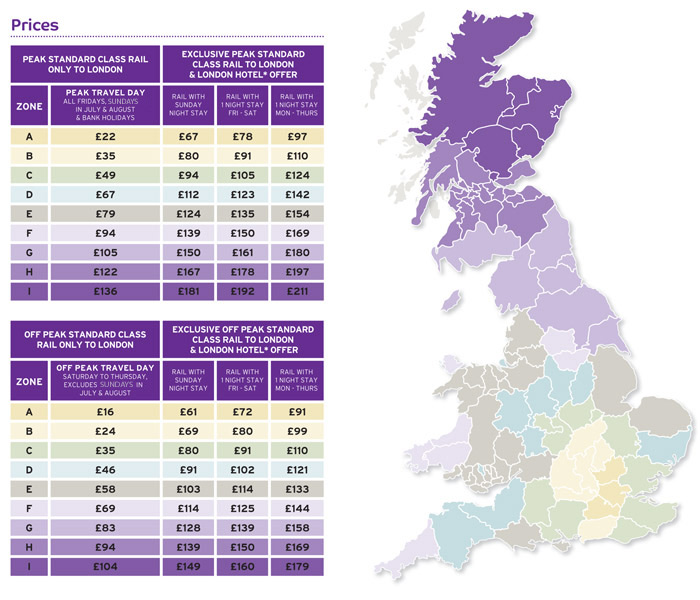 * The prices above are from prices and are per room per night based on 2 sharing a twin/double room, subject to availability.
London Hotels
Stay in London the night before your tour begins and arrive refreshed and ready to meet your Tour Manager and start your holiday. Alternatively, you may like to break your return journey with an overnight stay in the capital before continuing home... and while you're there, why not take in a West End show or a night at the opera? We are able to book a wide range of hotels in central London or, for our holidays beginning with a flight, at Heathrow, Gatwick or Manchester Airport for the night before or after your holiday. The hotels listed below are some of the more popular hotels our customers book in Central London, others are available on request.
| | | | | |
| --- | --- | --- | --- | --- |
| Hotel | Board | Star | Weekday room rate | Weekend room rate |
| Pullman London St Pancras | B&B | 4-star | From £240 | From £220 |
| Comfort Inn Kings Cross | B&B | 3-star | From £140 | From £140 |
| President Hotel | B&B | 3-star | From £110 | From £110 |
The prices above are from prices and are per room per night based on 2 sharing a twin/double room, subject to availability. Prices may change without prior notice. Booking conditions apply. If you would like a quote for your particular holiday please contact us on 01904 734 939.
Joining Eurostar at Ebbsfleet International or Ashford International
Ebbsfleet International
It's not just London that can boast direct links to the Continent. Travellers from the South of England can also connect to the Eurostar at Ebbsfleet International, which is conveniently situated close to the M25 and other major road links, and has lots of parking spaces. For travellers who wish to avoid London, departing from Ebbsfleet International can get your holiday off to a hassle-free start.

Please be aware that not all Eurostar services to and from St Pancras International stop at Ebbsfleet International. As such, customers travelling from Ebbsfleet may have to travel on an earlier train from the group departing St Pancras International and meet them in Paris or Brussels. A Rail Variation Fee of £25 per person will applicable in this instance as we have to purchase an individual ticket for you.
Ashford International
This Kent station offers a handy, time-saving alternative to travelling up to London for many people departing from South or South-East England, although as with Ebbsfleet, not all Eurostar services stop at Ashford International. A variation fee of £25 per person will be applicable to all tickets from Ashford International. Contact our Customer Services team for more details.
Upgrades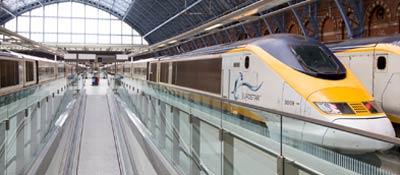 Eurostar upgrade
Travelling on Eurostar is, rightly, an experience all in itself and our tours include the comfort of Standard Class travel. You can choose to make that experience even more relaxing by upgrading to Standard Premier Class and enjoy:
Larger seats
A 2-course light meal served at your seat
Complimentary drinks served at your seat
Please contact a member of our team for prices.
Room and cabin upgrades
On all our tours we include good quality en suite rooms in our hotels or ship cabins. But we are also pleased to offer you the chance to upgrade in a variety of our hotels and cruise ships. Whether you want a deluxe room, junior suite, or panoramic sea view to add that extra frill to your holiday, we can arrange this for you.
Extending your European holiday
Our tours frequently overnight in Paris and Cologne, but often there is not enough time to get to know the heart of these enchanting cities. We are therefore delighted to offer you the opportunity to extend your holiday for as many nights as you please in cosmopolitan Paris or Gothic Cologne to savour these cities. We will, of course, also take care of your alternative travel arrangements.
Please contact us to discuss your requirements and to obtain a quote.