Why travel with Rail Discoveries?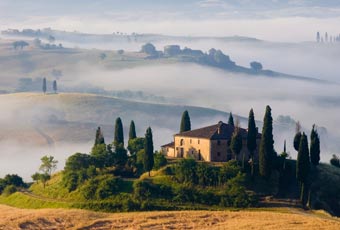 Whether you are planning a holiday in the UK, mainland Europe or further afield, a Rail Discoveries tour offers you a superb way to experience some of the world's most beautiful destinations. You can watch the wonderful and ever-changing scenery glide past; after all, rail journeys often go where no other form of transport can. You may feel inclined to take a stroll to the buffet, enjoy your holiday reading - or just close your eyes for a nap. When you arrive at your destination, you'll be in the perfect frame of mind for all the discoveries that await you - with an experienced Tour Manager on hand to make sure that you don't miss a thing.
Our pedigree
We believe experience counts - and as part of the Great Rail Journeys group, we have 30 years of it. No other company offers the range of itineraries that we do, and the care we take of every aspect of your holiday is also unmatched.
Enjoy the Journey
On our holidays, we firmly believe that the journey should be part of the adventure. That's why we prefer to avoid the hassle of airports and travel along some of the most breathtaking rail routes in the world on our tours. Rail is a remarkable way to experience new places, and as you take in the heights of the Alps on the Glacier Express, or views across lakes and fjords on Norway's Nordland Railway, or 'Polar Express', we're sure you'll agree.
Local Insights
Nothing opens up the soul of your destination like a little bit of local knowledge. That's why our excursions are led by guides from the area, who can delve into the history of local landmarks from their own perspective and tell you all about their culture. Whether you're after genuine insights into regional ways of life, or just a recommendation for a charming bistro off the beaten track, they'll be happy to help.
Flexible & Relaxed Itineraries
We build our tour itineraries completely around your needs and expectations. You're guaranteed to experience your destination's must-see attractions (if you'd like to - none of our excursions are compulsory), whilst still having plenty of time to explore at your own pace. If you want to explore more, you can even combine a rail tour with one of our five-star European river cruises.
Inclusive Value
We pride ourselves on ensuring that all our holidays give you great value. That means co-ordinating the best travel arrangements, hand-picking good quality hotels, many meals and excursions. Each holiday boasts a carefully-researched itinerary, with plenty of sightseeing as well as built-in free time.
No Hidden Surprises
We believe in great value holidays, so we include all our excursions in the price of your tour. What you see in our itineraries is what you get - all in. Your holiday price is fixed when you book, so there's no need to worry about unexpected or last-minute currency fluctuations.
A Safe Pair of Hands
Navigating language barriers, planning your travel and choosing the right hotel can be stressful, but we're here to help. We do it all for you. You can relax in the knowledge you are accompanied by a UK Tour Manager, there for you around the clock, making sure you get the most out of your holiday and taking care of all the logistics.
Making Friends Along the Way
You get the best of both worlds on one of our group escorted holidays; time to explore on your own terms alongside the chance to share experiences with a friendly group of like-minded travellers, trading stories and making new friends.
Flexibility for your peace of mind
We know that the unforeseen does sometimes happen so if, for any reason, you aren't able to travel on the dates you've booked, we'll offer you an alternative or even a different holiday for just a small administration fee, provided you tell us within the applicable cut-off date.
Financial Protection
Book with Rail Discoveries and you have the peace of mind of 100% financial protection. Flight-inclusive holidays are protected by ATOL (ATOL number 3278) administered by the Civil Aviation Authority, or ABTOT (ABTOT number 5386) protected, non flight-inclusive holidays are protected by ABTOT (ABTOT number 5386).