Our Tour Managers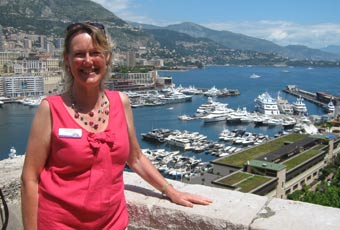 One of the most important features of a Rail Discoveries holiday is the added value that friendly, helpful and knowledgeable Tour Managers bring to every tour, allowing you to sit back, relax and enjoy your holiday with the peace of mind that everything is in capable hands.
People People
One of the most important features of any Rail Discoveries holiday is the knowledgeable, professional and helpful UK Tour Manager - who takes care of all arrangements with wonderful efficiency. You can simply relax and enjoy your holiday and focus on the parts that interest you most, knowing that all arrangements are in capable hands.
A select team
Rail Discoveries works with over 100 dedicated Tour Managers from diverse professional backgrounds. Each has been carefully selected for their passion for travel, sociable personality and reassuring organisational skills. The Tour Managers are well travelled and may have lived or worked abroad for several years. They have a valuable role to play and they're good company too.
Helping you get the most from your trip
It's no surprise that the Tour Managers share an enthusiasm for rail travel but everyone also has personal interests and insights that bring the tours to life. We aim to match the Tour Manager to each individual tour so they can really help you get the most from the destinations. Most excursions are augmented with local guides, who share with you their in-depth, insider knowledge.
The Tour Manager's role
Your Tour Manager will be there from the beginning of your trip and will remain on hand throughout to ensure every aspect of your holiday runs smoothly. From changing trains to co-ordinating special dietary requirements, your Tour Manager will make sure everything goes to plan; they'll also take care of any issues, should they arise. In addition, your Tour Manager is there to answer any questions, but also to share useful information and suggestions along the way, to enhance your tour.
Making the most of your time
Rail Discoveries tours are based on a full itinerary of fantastic things to see and do, which is where your Tour Manager really comes into their own. Through painstaking planning, the unflappable Tour Manager brings everything together beautifully so you can enjoy each day to the full, with leisure time to do what you wish, whilst someone else worries about the arrangements. The Tour Manager can even help you make the most of your free days, by suggesting optional excursions and local highlights from scenic trips.
Your holiday, your choice
While providing practical assistance and good conversation, the Tour Managers are also careful to fade into the background as required. After all, it's your holiday; we encourage customers to simply make use of the Tour Managers as much or as little as they like.