Single Travellers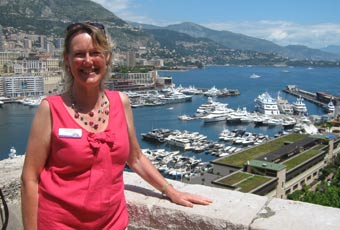 We welcome thousands of single travellers onto our tours every year. For so many reasons, including the sociable nature of our tours and the friendliness of the Tour Managers, a group holiday with Rail Discoveries is an ideal choice for individuals travelling on their own.
A Shared Holiday Experience
A Rail Discoveries tour is usually made up of around 10-12 couples as well as 4-5 single travellers but the appeal is the same for everyone; excellent itineraries, fantastic excursions, superb rail travel, great hotels and the services of a dedicated Tour Manager. No matter what size group you're travelling in, each tour is priced in such a way as to offer real value for money to all our customers.
From talking to our customers, we have learnt that some aspects of a group holiday are different for single travellers. The idea of dining alone or with strangers can be a particular concern but we design each Rail Discoveries tour to be inclusive and welcoming for everyone and our single travellers often say they never felt alone throughout their holiday, especially since trains are such a sociable way to travel.
Central Locations
Wherever possible, we work with hotels situated in the centre of the towns and cities we stay in, often without need for a transfer from the local train station. Being at the heart of your destination makes it easier to explore independently without the expense of using taxis or public transport though if you want to travel further afield, there is often the option for more adventurous sightseeing so just speak to your Tour Manager about all the options available.
Flexibility and Freedom
During your holiday, you will never feel herded or mollycoddled. If you enjoy your independence as a single traveller, you will have the freedom to do your own thing and will never be forced to join an excursion.
With Rail Discoveries offering such a diverse range of tours, you can choose between a holiday that features plenty of included excursions and group meals, and ones that offer more leisure time in order to spend more time exploring at your own pace.
Fair Single Supplements
At Rail Discoveries, we promise to operate a fair and transparent policy on our single supplements. Unfortunately, most hoteliers charge a higher rate for a single room rather than halving the cost of a twin or double room that we have to pass on to our single travellers as a supplement. These prices only reflect the extra costs levied by the hotels and is not something we add to the costs as a business in order to make a profit. There is no such supplement for your rail travel, excursions, transfers or meals and we always work exceptionally hard to negotiate the lowest possible prices for our single travellers.
On many of our tours, single travellers will have sole occupancy of a twin or double room rather than a smaller single room. We indicate clearly on each tour page which option the single supplement covers.
Group Travel Savings
All our customers, including single travellers, benefit from the strength in numbers that comes with group travel. Most of the included excursions would be extortionately expensive for someone travelling on their own but on a Rail Discoveries holiday that cost is dispersed, bringing down the total price per person. We also often manage to arrange discounts based on the size of our tours as well.
View our range of holiday ideas