If you're dreaming of a trip to Italy, your mouth is probably watering at the thought of the delicious food you're likely to eat. It's no secret this is a destination that ticks all the foodie boxes, with world-renowned cuisine to be found seemingly around every street corner.
Of course, there's the iconic pizza and the pasta, but there's also a host of other delectable eats to enjoy throughout the country, from tasty street food snacks to elegant seafood dishes. With free time built into all of our Italian itineraries, travel with us and you'll have the chance to head out and eat like a true local. Here's what to try where.
Rome
A classic city calls for classic food, and it doesn't get much better than in Rome. This is a city of enthralling contrasts, where the past mingles with the present and traditional bars frequented by older, in-the-know locals sit alongside chic coffee shops and modern cafes.
There's something to suit every taste here, but we'd recommend indulging in some pizza al Taglio - literally, pizza by the slice (rectangle, never triangle). The simplest varieties let the ingredients shine; rich tomato sauce, cheese, and basil, but you can find a range of tempting toppings throughout the city, from ground truffle to prosciutto.
Otherwise, keep it classic with a carbonara - delicious pasta in a silky sauce of egg, black pepper, Pecorino Romano and Parmigiano-Reggiano. Simple, yes, but probably one of the tastiest, not to mention most authentic pasta dishes you'll ever taste.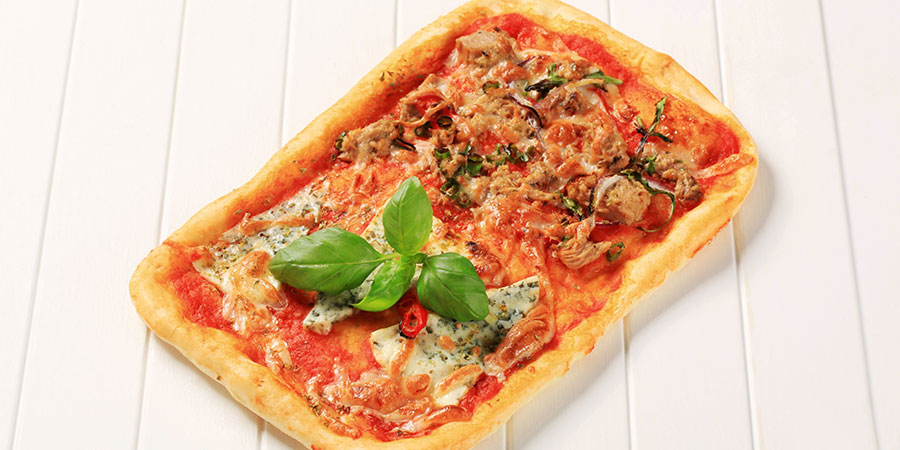 Milan
Head to Milan and uncover a slightly different side to Italian food. Nested up in the north of Italy, the Milanese food scene is less focused on pizza and pasta and more on the kind of hearty, meat-based dishes you might expect to find somewhere in Central Europe or Austria.
Cassoeula is a popular option in the city. Historically regarded as a poor man's meal, this pork, cabbage, and sausage dish utilises the less popular parts of the pig, such as the rind and ribs. The result? A rich and flavourful stew that's the perfect comfort food, and ideal for warming you up on a cooler day. Eat it with michetta, Milan's popular local bread.
Or, opt for risotto, a classic Lombardian dish. In Milan, it's a refined affair; golden-hued and infused with saffron, it's best enjoyed in a dimly-lit restaurant with a glass of local wine.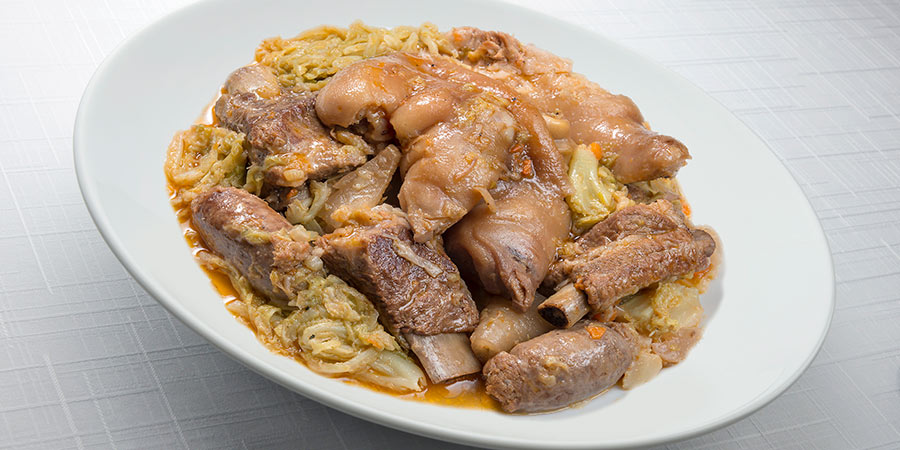 The Amalfi Coast
Golden sands lapped by azure waters, rugged cliffsides, tiny fishing towns, and lemon trees gently swaying in the sea breeze… the Amalfi Coast embodies Mediterranean charm. You'll want to slow down a little here; it's the type of place to enjoy long, lazy lunches made using the best of local ingredients, ideally while looking out over the glittering ocean.
Given its coastal locale, it's a must that you should try some freshly-caught seafood when visiting the Amalfi Coast. Fresh fish, clams, prawns, mussels, and crab take centre stage on the menus here, often hauled in by fisherman that very same morning.
Try Scialatielli ai frutti di mare, a traditional pasta dish found in many restaurants. This thick, wide pasta comes heaped with flavoursome seafood, typically clams and mussels. Enjoy it in a pavement café while soaking up the Mediterranean climes, perhaps accompanied by a glass of limoncello, a refreshing liqueur made with the peel of local lemons.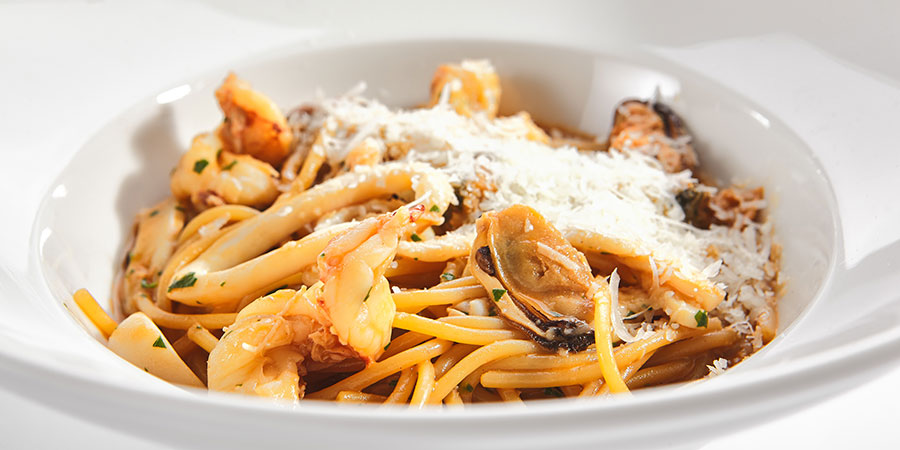 Tuscany
A rural region of rolling ochre hills dotted with quaint farmhouses, Tuscany is known for its humble yet mouthwatering dishes. La cucina povera - the 'cooking of the poor' is a style of Italian cooking that's in full swing here, and you'll find traditional Tuscan food often has resourceful beginnings, harking back to the days when farmers had to utilise every part of an animal.
Tripe is a local speciality, and lampredotto, the fourth stomach of the cow, showcases inventive Tuscan street food at perhaps its best. Found at many street food stands throughout Florence, lampredotto is slow-cooked with plenty of spices, and served in tender slices on a crisp bun, often with tangy salsa verde.
Tuscany is also famous for its fresh and simple ingredients, particularly olive oil and bread. Modest, yes, but always executed exceptionally well. Try crostini di fegato, warm bread topped with chicken liver pate, or pasta finished with olive oil and freshly-shaved truffle, foraged from the Tuscan countryside by specially trained dogs or pigs.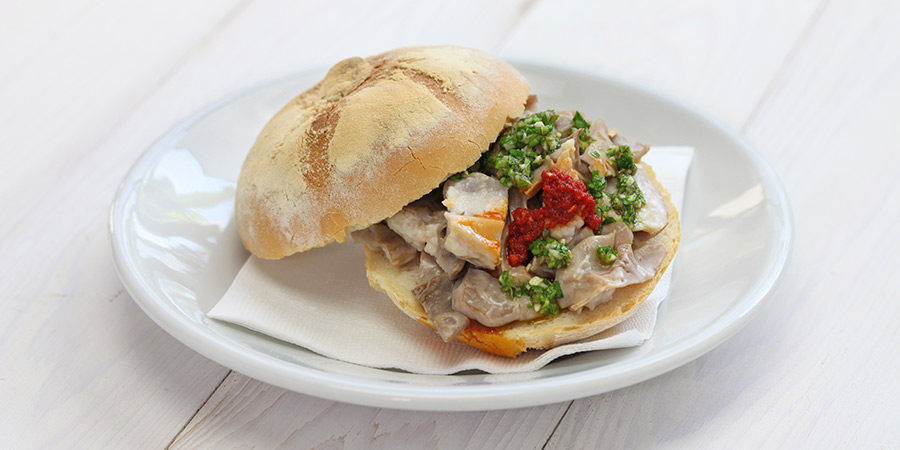 Venice
Steeped in romantic allure, from its labyrinthine waterways to its elaborate marble palaces, the 'Floating City' of Venice doesn't particularly need cuisine on its side too, but you'll be pleased to know the food on offer is actually pretty wonderful.
Unsurprisingly, given its watery surroundings, this is a city that does seafood well. Try Risotto de gò, a creamy risotto made with goby fish caught from the waters of the surrounding lagoon. Or feast like royalty and order risi e bisi, a traditional dish of Italian rice and peas that was traditionally served to the Doge every St. Mark's Feast Day.
One of our favourite things about Venice is cicchetti, a type of Venetian tapas. Try olive ascolane - green olives stuffed with meat and deep-fried, or crispy fried sardines served on freshly-sliced bread. These bite-sized morsels are generally eaten as a bar snack, often washed down with a glass of local prosecco - a tipple so beloved here, if you're lucky you'll stumble across one of the bars with it on tap. Salute!