Winter & Spring Rail Tours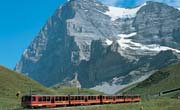 Winter and spring can be two of the most beautiful seasons of the year. As snowflakes drop on rugged mountain peaks and glistening rivers freeze over into cool ice, many countries in Europe turn into winter wonderlands. Our winter rail journeys take you to some of the most picturesque areas in Europe, from the mountains and glaciers of Switzerland to the rivers and castles of Germany. With pure white snow crunching underfoot and a crisp and still atmosphere, it is hard not to become enchanted during winter. As winter turns to spring the landscapes of Europe awaken with pretty flowers, lush valleys and a new lease of life. Our spring rail journeys travel to the heart of some beautiful places as well as indulging in cultural celebrations, visiting striking monuments and many more enthralling activities. Browse our selection of winter and spring rail journeys.
Your search has returned 57 results.
Discover the popular Flower Show in the pretty spa town of Harrogate on this exciting tour. We also enjoy a nostalgic journey on a heritage railway and visit charming Bolton Abbey.

Unwind against the sparkling backdrop of tranquil Lake Garda. During this relaxing break, we enjoy exciting excursions to lively Verona, picturesque Sirmione and beautiful Venice.
Discover the Beauty of Winter and Spring Rail Journeys
Our winter and spring rail journeys take you to some of Europe's finest destinations at two incredible times of year. Whilst you journey through beautiful landscapes you can relax and simply enjoy the passing scenery from the comfort of your train carriage. Rail travel is the perfect way to savour a destination and your time away, as every moment can be spent witnessing remarkable panoramas. Our winter rail journeys and breaks in spring make the journey an enjoyable part of your holiday.
A friendly professional Tour Manager joins each of our winter and spring rail journeys to ensure that everything runs smoothly. They take care of everything including checking into hotels so that you do not have to worry about a thing. All the accommodation we use on our holidays has been chosen due to its great location, value for money and its excellent facilities. All the accommodation and travel is included in the price of your holiday, as well as a selection of excursions and meals. The excursions we choose aim to introduce guests to a variety of natural, cultural and historical highlights, making your spring and winter rail journeys a memorable experience.